Just about everyone's familiar with the much-loved 2003 film School Of Rock, but even if you've seen it a thousand times, there's going to be something brand-new for you in the latest musical theatre adaption by Andrew Lloyd Webber. This year, the Winter Garden Theatre brings School Of Rock: The Musical to New York to delight thousands with its feel-good themes, loveable characters and catchy tunes! This is one kids and adults both will love – treat yourself and the family and get your tickets to see School Of Rock at the Winter Garden Theatre today! Early booking is recommended for the best seats.
School Of Rock Tickets: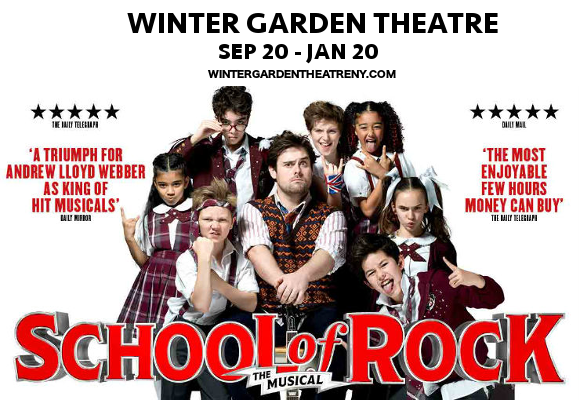 "A big hearted show. Loud and cheeky, a feel-good experience with a hint of anarchic wildness" – Evening Standard
"This is Lloyd Webber's most exuberant show in years and, at a time of general gloom, is dedicated to the great cause of cheering us all up" – The Guardian
"Team Lloyd Webber have improved on this vaguely preposterous but resonant fairytale of salvation through disobedience and primal playfulness. What was funny becomes doubly so. Where there were a handful of original songs, now there's an album's worth, busting with rare freshness and vitality" – The Telegraph
The musical opens with the character of Dewey Flinn, a down-and-out rock n' roller crashing on his friend's sofa and desperately looking for ways to pay rent. In an unlikely series of circumstances he ends up impersonating a substitute teacher and ends up employed, entirely unqualified, in a school. Initially disinterested in his new role, he gets new ideas when he sees the musical talents of his classically trained students and introduces them to rock music, even sneaking them out of the school to participate in a Battle Of The Bands contest. What follows is a journey of self-discovery, both by the students and by Dewey himself, as they seek to find out who they truly are and overthrow confines they'd never been previously aware they were under.
While the film took songs from popular culture, the musical's primary draw is its entirely-new score, composed by Andrew Lloyd Webber, with lyrics by Glenn Slater, and some unique adaptions from other sources – such as the ingenious reworking of the "Queen Of The Night," aria by Mozart. Songs from this musical will stay stuck in your head for days, with numbers such as "When I Climb To The Top Of Mount Rock," "You're In The Band," "Where Did The Rock Go?" and "Stick It To The Man" serving as some of the musical's highlights.
Other new features of the musical involve, sensibly, shifting the focus away from the dominant personality of Dewey, made iconic by his portrayal by Jack Black in the movie, to the children. "I think we've defined the other children rather more than in the film, and given them a situation and given them problems,"Julian Fellowes explained in an interview. "So we know, I think slightly more clearly, the effect that Dewey is having on them and having on their lives."
The characters are charming, from the affable Dewey to the initially stiff and uncompromising school headmistress, but what really makes this show, of course, is the incredible child cast, each an incredibly gifted musician and actor, from rapid guitar-shredding, to a keyboardist capable of switching with ease from Bach to Emerson, Lake and Palmer, to an acknowledging nod to themes of feminism from the demanding "band manager" Summer.
Upon its opening, the original Broadway production earned four Tony Award nominations, including Best Musical and Best Original Score, and won the WhatsOnStage award for Best New Musical and the Laurence Oliver Award for Outstanding Achievement in Music for its rotating cast – 3 sets – of incredible child musicians.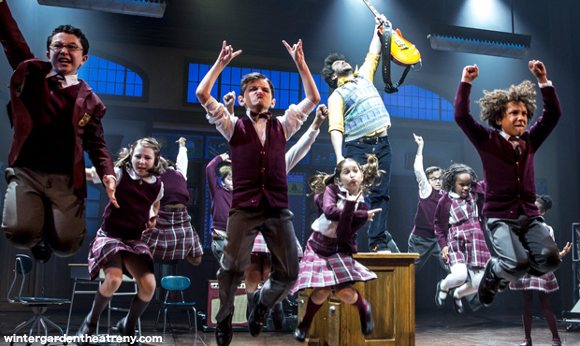 School Of Rock: The Musical is very much in keeping with, and will delight fans of, the original, while providing plenty new to love, from the well-developed characters of the children to the fantastic new songs. Lively, fun, hilarious, and above all LOUD, School Of Rock: The Musical will go down well with every child and the inner child of every grown-up. Don't miss out on this brilliant musical – book your tickets today while they last!